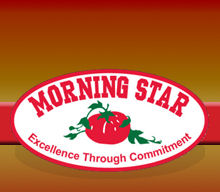 Class A Tomato haul driver Job
The Morning Star Trucking Company provides transportation services for bulk tomato, freight and transplanting operations throughout the Central Valley of California, primarily during the summer months. Morning Star Trucking also provides recruiting, hiring and training services for internal customers in support of our farming, transplanting and harvesting needs. During peak summer operations, we employ about 600 drivers operating approximately 290 trucks.
Job Description-
If you want a commercial driver's license, or if you already have a Class A license keep reading!
Morning Star Trucking will cover the costs of your training, if you agree to drive for us this season (July to October). If you successfully complete the training program, we then give you a job so you can put your new skills to work! (Training is unpaid)
•Gain valuable driving experience!
•One-on-One training with our experienced instructors.
•Our training program is team focused.
•Must be 21 years of age by July 1st.
•Free Housing available during the season for out of town drivers, to help maximize driver earnings.
•You will not have to commute to work, which will minimize expenses and save you time!
•Free housing available while you train.
•New fleet
•We train in automatic trucks.
•Highest earnings in the industry. Earnings are highly dependent on work ethic and commitment. End of season bonuses are available for qualified drivers. Details given during the interview.
•Safety incentives
•To speed up the application process, it helps if you have your CDL Learner's permit with doubles/triples endorsement and a copy of your DMV K4 (Ten year driving record) printout with your application. (We are currently accepting the unofficial driving record from the DMV website.)
•Industry best dispatching and scheduling.
Top 10% $2300/week
Top 25% $2200/week
Top 50% $1650/week
Pay: $1300-$2100/week
No benefits-seasonal work.
How to apply for this Driving Job
Fill out a Gary's Job Board application. That same application can be used to apply to as many jobs as you'd like. Create a Driver's Account.
Person to Contact about this CDL Job: Ernesto Deloza
The Morning Star Trucking Phone Number: 530-473-4000
Tell em' Gary's Job Board sent you.
This truck driving job may have an alternate application method. Look in the description area below for more information. All companies will accept a Gary's Job Board application in addition to their other methods.
Gary 's Job Board. Fill out ONE application to send to ALL companies
Full CDL Job Information
Question
Answer
Company Name
The Morning Star Trucking
Class of CDL
Class A
Job Position/Title
Tomato haul driver
Type of Route
Local
# of seats to fill
50
Person to Contact about this Job Profile
Ernesto Deloza
How to Apply
Create a Driver s Account to Apply
City
Williams
State
CALIFORNIA
Minimum Years of Experience Required
< 6 months
Does the driver need to have a Hazardous Materials Endorsement?
No
Does the driver need to have a Tank Endorsement?
No
Does the driver need to have a Doubles/Triples Endorsement?
Yes
Does the driver need to have a Passenger Endorsement?
No
Dui?
5-10 yrs
Traffic tickets allowed in the last 3 years?
2
Any at fault accidents allowed in the last 3 years?
Yes
Do you require a company provided DOT physical?
Yes
What does the job pay?
$1300-$2100/week
Please describe any benefits you offer (Very important so we can help you find the right candidate)
No benefits-seasonal work.
Please describe the job in detail
The Morning Star Trucking Company provides transportation services for bulk tomato, freight and transplanting operations throughout the Central Valley of California, primarily during the summer months. Morning Star Trucking also provides recruiting, hiring and training services for internal customers in support of our farming, transplanting and harvesting needs. During peak summer operations, we employ about 600 drivers operating approximately 290 trucks.

Job Description-

If you want a commercial driver's license, or if you already have a Class A license keep reading!

Morning Star Trucking will cover the costs of your training, if you agree to drive for us this season (July to October). If you successfully complete the training program, we then give you a job so you can put your new skills to work! (Training is unpaid)

•Gain valuable driving experience!
•One-on-One training with our experienced instructors.
•Our training program is team focused.
•Must be 21 years of age by July 1st.
•Free Housing available during the season for out of town drivers, to help maximize driver earnings.
•You will not have to commute to work, which will minimize expenses and save you time!
•Free housing available while you train.
•New fleet
•We train in automatic trucks.
•Highest earnings in the industry. Earnings are highly dependent on work ethic and commitment. End of season bonuses are available for qualified drivers. Details given during the interview.
•Safety incentives
•To speed up the application process, it helps if you have your CDL Learner's permit with doubles/triples endorsement and a copy of your DMV K4 (Ten year driving record) printout with your application. (We are currently accepting the unofficial driving record from the DMV website.)
•Industry best dispatching and scheduling.

Top 10% $2300/week
Top 25% $2200/week
Top 50% $1650/week

Apply
Create a Driver s Account to Apply

The Morning Star Trucking Local Truck Driving Jobs in Williams, CA