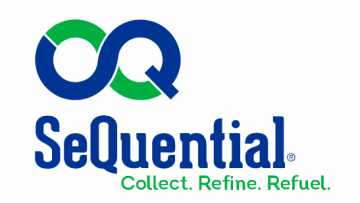 CDL Class A Route Truck Driver Job
SeQuential is the longest-running commercial biodiesel producer in the Pacific Northwest. Biodiesel is a non-toxic, premium diesel fuel made from oil bearing plants and recycled oils and fats. It can be used as a drop-in replacement for petroleum diesel, or blended in any percentage to reduce harmful emissions.
Sequential collects thousands of gallons of used cooking oil and grease trap materials from restaurants, grocers, and event centers every month to create bio-diesel at our plant in Salem, Oregon. At SeQuential we create and sell millions of gallons of high quality biodiesel every year. Additionally, we partner with fuel retailers and distributors to make our products available commercially and individually up and down the West Coast.
SeQuential Route Drivers collect used cooking oil (UCO) and grease trap materials from restaurants, grocers, and event centers, and then push off the oil to various SeQuential tank farms whereby materials eventually get turned into biodiesel. All drivers are expected to operate Company vehicles safely and pursuant to DOT and FMCSA regulations.
Essential Functions:
• Collects UCO and grease trap material from accounts. There may be anywhere from 15-30 stops daily
• Takes care of the equipment and upkeep
• Physical work that includes handling intense smells of non-toxic bulk liquids (used cooking oil and grease trap)
• Safely driving in the Salinas area, and can navigates well in the city
Experience and Competencies
• Must have a friendly demeanor and ability to positively interact with customers
• 1 + years of commercial driving experience
• Must have valid Class A license and clean driving record
• Must have tanker endorsement/doubles and triples a plus
• Must have current DOT medical card
• Must have air brake endorsement
• Ability to drive a split-differential transmission
• Must pass a pre-employment DOT drug test and must pass a drive test
• Other duties and special projects as assigned
• Pump truck experience a plus
• HAZMAT endorsement a plus
• TWIC card a plus
Physical Demands
• Ability to stand, sit walk, push, pull, work in splayed positions, and carry materials up to 100 pounds daily
• Ability to work in varied offices, warehouses, truck yards, and public venues
• Ability to tolerate intense smells of non-toxic bulk liquids (used cooking oil and grease trap)
• Work schedule Wednesday through Saturday 4:00am – 2:00pm
Pay: $25.05/Hr
• Competitive medical, dental, vision, and life insurance
• Three weeks paid vacation (PTO) each year
• Seven paid holidays per year
• 401K with profit sharing (based on company profitability) and 50% match
• Employer paid cell phone
• GPS and telematics in all trucks
How to apply for this Driving Job
Fill out a Gary's Job Board application. That same application can be used to apply to as many jobs as you'd like. Create a Driver's Account.
Person to Contact about this CDL Job: Chase Cawley
SeQuential Phone Number: 5034814859
Tell em' Gary's Job Board sent you.
This truck driving job may have an alternate application method. Look in the description area below for more information. All companies will accept a Gary's Job Board application in addition to their other methods.
Gary 's Job Board. Fill out ONE application to send to ALL companies
Full CDL Job Information
Question
Answer
Company Name
SeQuential
Class of CDL
Class A
Job Position/Title
Class A Route Truck Driver
Type of Route
Local
# of seats to fill
1
Person to Contact about this Job Profile
Chase Cawley
How to Apply
Create a Driver s Account to Apply
City

Salinas

State

CALIFORNIA

Minimum Years of Experience Required
1-2 yrs
Does the driver need to have a Hazardous Materials Endorsement?
No
Does the driver need to have a Tank Endorsement?
Yes
Does the driver need to have a Doubles/Triples Endorsement?
No
Does the driver need to have a Passenger Endorsement?
No
Felonies?
5-10 yrs
Dui?
5-10 yrs
Traffic tickets allowed in the last 3 years?
None
Any at fault accidents allowed in the last 3 years?
No
Do you require a company provided DOT physical?
Yes
What does the job pay?
$25.05/Hr
Please describe any benefits you offer (Very important so we can help you find the right candidate)
• Competitive medical, dental, vision, and life insurance
• Three weeks paid vacation (PTO) each year
• Seven paid holidays per year
• 401K with profit sharing (based on company profitability) and 50% match
• Employer paid cell phone
• GPS and telematics in all trucks
Please describe the job in detail
SeQuential is the longest-running commercial biodiesel producer in the Pacific Northwest. Biodiesel is a non-toxic, premium diesel fuel made from oil bearing plants and recycled oils and fats. It can be used as a drop-in replacement for petroleum diesel, or blended in any percentage to reduce harmful emissions.
Sequential collects thousands of gallons of used cooking oil and grease trap materials from restaurants, grocers, and event centers every month to create bio-diesel at our plant in Salem, Oregon. At SeQuential we create and sell millions of gallons of high quality biodiesel every year. Additionally, we partner with fuel retailers and distributors to make our products available commercially and individually up and down the West Coast.

SeQuential Route Drivers collect used cooking oil (UCO) and grease trap materials from restaurants, grocers, and event centers, and then push off the oil to various SeQuential tank farms whereby materials eventually get turned into biodiesel. All drivers are expected to operate Company vehicles safely and pursuant to DOT and FMCSA regulations.

Essential Functions:
• Collects UCO and grease trap material from accounts. There may be anywhere from 15-30 stops daily
• Takes care of the equipment and upkeep
• Physical work that includes handling intense smells of non-toxic bulk liquids (used cooking oil and grease trap)
• Safely driving in the Salinas area, and can navigates well in the city

Experience and Competencies
• Must have a friendly demeanor and ability to positively interact with customers
• 1 + years of commercial driving experience
• Must have valid Class A license and clean driving record
• Must have tanker endorsement/doubles and triples a plus
• Must have current DOT medical card
• Must have air brake endorsement
• Ability to drive a split-differential transmission
• Must pass a pre-employment DOT drug test and must pass a drive test
• Other duties and special projects as assigned
• Pump truck experience a plus
• HAZMAT endorsement a plus
• TWIC card a plus

Physical Demands
• Ability to stand, sit walk, push, pull, work in splayed positions, and carry materials up to 100 pounds daily
• Ability to work in varied offices, warehouses, truck yards, and public venues
• Ability to tolerate intense smells of non-toxic bulk liquids (used cooking oil and grease trap)
• Work schedule Wednesday through Saturday 4:00am – 2:00pm

Apply
Create a Driver s Account to Apply
SeQuential jobs in Salinas, CALIFORNIA now hiring Local CDL Drivers