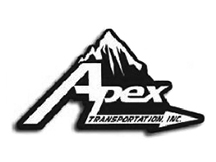 Class A CDL A Flatbed Job
Apex Transportation Inc.
Job Description & Employee Agreement-Flatbed Truck Driver
You're Job Summary:
To transport and deliver flatbed freight, over short and long distances, by driving tractor/trailer combinations Inter-State and Intra-State dispatch routes.
Things you must do:
• Hook and unhook trailers from the tractor itself, including cranking lever to raise and lower landing gear on semi-flatbed trailers. A VISUAL INSPECTION OF THE FIFTH WHEEL LOCKING TO THE KING PIN MUST BE DONE.
• Load and unload trailer, either individually, or with assistance of customer's employees, with or without freight handling equipment.
• Tarp and untarp freight as required by weather conditions, or at customer's request.
• Secure freight for transit in compliance with FMCSA Rules and Regulations, particularly CFR Title 49 Subpart I 393.100-393.126 Inclusive.
• Perform occasional lifting, pulling, pushing, and carrying of freight.
• Inspect tractor and trailer for defects and safe operating condition in compliance with FMCSA Rules and Regulations, particularly CFR Title 49 Subpart I 396.11-396.15 Inclusive. Such inspections shall be performed prior to driving, periodically throughout the day, and after each day's work. Results of these inspections shall be submitted in written form each day.
• Maintain the appearance of both tractor and trailer; inside the tractor cab at all times, and outside the vehicle as weather conditions permit.
• Check shipping and delivery documents for accuracy and the presence of all materials which may be classified as hazardous. Check for agreement between shipping papers and markings, and labeling on freight.
• Notify Apex Dispatch before loading hazardous materials as well as instances that might indicate freight shortages or damage.
• Ensure that all shipping documentation (i.e. manifests, bills of lading, shipping orders or other freight bills, etc.) is promptly turned in to Apex Administration upon completion of delivery of freight or at the end of work day.
• Confirm that vehicle and load are properly flagged, lighted, and placarded for oversize and over-length loads.
• Install and remove tire chains as required by weather and Colorado chain laws.
• Drive tractor-trailer to delivery destinations by the most practical truck route, and in strict compliance with all applicable FMCSA Rules and Regulations.
• Apply knowledge of commercial driving skills in maneuvering vehicle at varying speeds, in difficult situations such as: heavy traffic, inclement weather, restricted loading and unloading locations, and off-road construction sites.
• Maintain accurate and true-to-fact documents required for compliance with all applicable State and Federal regulations including, but not limited to, driver daily logs, records of fuel purchase, mileage records, driver vehicle inspection records, and other records required by Apex transportation, Inc.
• Promptly report any delays due to breakdowns, weather, traffic conditions, emergencies, or other irregularities relating to pick-up or delivery of freight.
• Immediately report in all incidents and accidents which have resulted in damage of any kind to vehicles, cargo, persons, or property.
• Immediately report all personal injuries, of any nature whatsoever, sustained while working in any "on duty" status.
• Be available for 7-day/week, 3rd shift work assignments when paced on "restricted work conditions" by a physician treating a work-related injury. Such availability is required without exception, and is a "condition of employment" as defined in Colorado Revised Statutes, Title 8.
You are accountable for:
• Professionally representing Apex Transportation through personal appearance and civil public behavior.
• Properly loading and unloading freight to assure safety and minimal risk of damage to cargo, vehicles, persons, and property.
• Observing workplace safety guidelines in effect at all locations.
• Safely and legally operating a commercial motor vehicle.
• Consideration of Apex Transportation company property and personal property of other employees by:
o Properly handling and maintaining equipment used in common.
o Properly using Apex Transportation maintenance facilities.
o Responding in a timely manner to Apex Transportation Safety Department requests for paperwork corrections and clarifications.
o Notifying Apex Dispatch of work assignment changes or delays.
o Observing all assigned work-schedule start times
Job Specifications:
• Must possess a valid Colorado CDL Class A driving license.
• Must be 25 years of age
• Must have no convictions for alcohol-related offenses in the past ten years (any vehicle).
• Must have no careless or reckless driving convictions (any vehicle).
• Must have the ability to read, write, and perform basic arithmetic calculations necessary to properly handle receipts, read maps, road signs, maintain logs, and comprehend FMCSA Rules and Regulations.
• Must comply with all size-weight regulations promulgated by the State of Colorado for regulation of commercial truck traffic on state highways and thoroughfares. Driver acknowledges and agrees that fines and penalties resulting from citations are the sole responsibility of driver.
• Must have working knowledge of vehicle safety and control systems.
• Must have knowledge of FMCSA Rules and Regulations regarding safe driving, hours-of-service, inspection and maintenance, and load securement.
• Must display sufficient driving skills to safely and efficiently operate Class-8 tractor trailer combinations on public highways and thoroughfares.
• Must meet medical standards for drivers of commercial motor vehicles.
• Must pass a pre-employment drug screen.
• Must meet the following minimal physical requirements:
o Must be able to remain alert while driving for periods of time up to eleven (11) hours.
o Must be able to shift 18-speed transmission with use of clutch.
o Must be able to perform ordinary physical movements such as, crouching, bending, climbing, and lifting.
o Must be able to enter and exit vehicle's cab using three-point technique multiple times.
o Must be able to perform occasional heaving lifting: regular and overhead lifting of weights up to 80 pounds.
o Must be able to place body in ground-positions to perform required functions such as; checking tire pressure, inspecting brakes and vehicle undercarriage.
Working Conditions:
• Drivers will be required to work in many different weather conditions in various geographical locations in the Denver-Metro area and throughout the state of Colorado.
• Drivers will be subject to varying and irregular work schedules as required by customer requests and FMCSA Rules and Regulations.
• Drivers may be required to take off-duty time away from their ordinary places of residence. All personnel under dispatch are charged with being personally prepared for required off-duty layovers.
• Drivers must work outdoors and indoors as job requires. Work may take place at times and in places of inclement weather. All personnel under dispatch are charged with being personally prepared for such occasions.
• Drivers may be subject to tight delivery schedules, delays en route, and other stresses related to traffic, and weather conditions.
• Drivers must be organized and capable of resolving simple and complex problems relating to all aspects of work described herein.
Employee Representations and Agreements:
• Driver represents and agrees that at the end of his term of employment, he shall deliver to Apex Administration all property of apex Transportation Inc., including, but not limited to:
o All Dispatch paperwork
o Fuel Cards
o Vehicle and property access keys
o All other work-related documents and items not specifically the personal property
• Driver further agrees that should driver fail to return such property on demand, apex Transportation Inc. shall be entitled to reimbursement for all recovery costs including reasonable attorney's fees.
Pay: $20 per hour and overtime after 40 hours
CIGNA HEALTH, DENTAL AND VISION THE FIRST OF THE MONTH AFTER 60 DAYS OF EMPLOYMENT AND COMPANY PAYS 90% OF YOURS AND 60% OF ANY DEPENDANTS. WEEKLY PAY WITH DIRECT DEPOSIT AND SUPPLIMENTAL BENIFITS LIKE AFLAC, LEGAL SHIELD AND AFTER A YEAR WILL MATCH UP TO 3% IN A SIMPLE IRA. ROADSIDE INSPECTION BONUS WITH NO VIOLATIONS LEVEL 1- $100 GIFT CARD, LEVEL 2-5- $50 GIFT CARD. APEX T SHIRTS AND OTHER ITEMS BELOW COST.
How to apply for this Driving Job
Fill out a Gary's Job Board application. That same application can be used to apply to as many jobs as you'd like. Create a Driver's Account.
Person to Contact about this CDL Job: Cindy
Apex Transportation, Inc. Phone Number: 303-408-6721
Tell em' Gary's Job Board sent you.
This truck driving job may have an alternate application method. Look in the description area below for more information. All companies will accept a Gary's Job Board application in addition to their other methods.
Gary 's Job Board. Fill out ONE application to send to ALL companies
Full CDL Job Information
Question
Answer
Company Name
Apex Transportation, Inc.
Class of CDL
Class A
Job Position/Title
CDL A Flatbed
Type of Route
Local
# of seats to fill
2
Person to Contact about this Job Profile
Cindy
How to Apply
Create a Driver s Account to Apply
City
Henderson
State
COLORADO
Minimum Years of Experience Required
2-5 yrs
Does the driver need to have a Hazardous Materials Endorsement?
No
Does the driver need to have a Tank Endorsement?
No
Does the driver need to have a Doubles/Triples Endorsement?
No
Does the driver need to have a Passenger Endorsement?
No
Felonies?
5-10 yrs
Dui?
5-10 yrs
Traffic tickets allowed in the last 3 years?
1
Any at fault accidents allowed in the last 3 years?
No
Do you require a company provided DOT physical?
No
What does the job pay?
$20 per hour and overtime after 40 hours
Please describe any benefits you offer (Very important so we can help you find the right candidate)
CIGNA HEALTH, DENTAL AND VISION THE FIRST OF THE MONTH AFTER 60 DAYS OF EMPLOYMENT AND COMPANY PAYS 90% OF YOURS AND 60% OF ANY DEPENDANTS. WEEKLY PAY WITH DIRECT DEPOSIT AND SUPPLIMENTAL BENIFITS LIKE AFLAC, LEGAL SHIELD AND AFTER A YEAR WILL MATCH UP TO 3% IN A SIMPLE IRA. ROADSIDE INSPECTION BONUS WITH NO VIOLATIONS LEVEL 1- $100 GIFT CARD, LEVEL 2-5- $50 GIFT CARD. APEX T SHIRTS AND OTHER ITEMS BELOW COST.
Please describe the job in detail
Apex Transportation Inc.
Job Description & Employee Agreement-Flatbed Truck Driver

You're Job Summary:

To transport and deliver flatbed freight, over short and long distances, by driving tractor/trailer combinations Inter-State and Intra-State dispatch routes.

Things you must do:

• Hook and unhook trailers from the tractor itself, including cranking lever to raise and lower landing gear on semi-flatbed trailers. A VISUAL INSPECTION OF THE FIFTH WHEEL LOCKING TO THE KING PIN MUST BE DONE.

• Load and unload trailer, either individually, or with assistance of customer's employees, with or without freight handling equipment.

• Tarp and untarp freight as required by weather conditions, or at customer's request.

• Secure freight for transit in compliance with FMCSA Rules and Regulations, particularly CFR Title 49 Subpart I 393.100-393.126 Inclusive.

• Perform occasional lifting, pulling, pushing, and carrying of freight.

• Inspect tractor and trailer for defects and safe operating condition in compliance with FMCSA Rules and Regulations, particularly CFR Title 49 Subpart I 396.11-396.15 Inclusive. Such inspections shall be performed prior to driving, periodically throughout the day, and after each day's work. Results of these inspections shall be submitted in written form each day.

• Maintain the appearance of both tractor and trailer; inside the tractor cab at all times, and outside the vehicle as weather conditions permit.

• Check shipping and delivery documents for accuracy and the presence of all materials which may be classified as hazardous. Check for agreement between shipping papers and markings, and labeling on freight.

• Notify Apex Dispatch before loading hazardous materials as well as instances that might indicate freight shortages or damage.

• Ensure that all shipping documentation (i.e. manifests, bills of lading, shipping orders or other freight bills, etc.) is promptly turned in to Apex Administration upon completion of delivery of freight or at the end of work day.

• Confirm that vehicle and load are properly flagged, lighted, and placarded for oversize and over-length loads.

• Install and remove tire chains as required by weather and Colorado chain laws.

• Drive tractor-trailer to delivery destinations by the most practical truck route, and in strict compliance with all applicable FMCSA Rules and Regulations.

• Apply knowledge of commercial driving skills in maneuvering vehicle at varying speeds, in difficult situations such as: heavy traffic, inclement weather, restricted loading and unloading locations, and off-road construction sites.

• Maintain accurate and true-to-fact documents required for compliance with all applicable State and Federal regulations including, but not limited to, driver daily logs, records of fuel purchase, mileage records, driver vehicle inspection records, and other records required by Apex transportation, Inc.

• Promptly report any delays due to breakdowns, weather, traffic conditions, emergencies, or other irregularities relating to pick-up or delivery of freight.

• Immediately report in all incidents and accidents which have resulted in damage of any kind to vehicles, cargo, persons, or property.

• Immediately report all personal injuries, of any nature whatsoever, sustained while working in any "on duty" status.

• Be available for 7-day/week, 3rd shift work assignments when paced on "restricted work conditions" by a physician treating a work-related injury. Such availability is required without exception, and is a "condition of employment" as defined in Colorado Revised Statutes, Title 8.

You are accountable for:

• Professionally representing Apex Transportation through personal appearance and civil public behavior.

• Properly loading and unloading freight to assure safety and minimal risk of damage to cargo, vehicles, persons, and property.

• Observing workplace safety guidelines in effect at all locations.

• Safely and legally operating a commercial motor vehicle.

• Consideration of Apex Transportation company property and personal property of other employees by:

o Properly handling and maintaining equipment used in common.

o Properly using Apex Transportation maintenance facilities.

o Responding in a timely manner to Apex Transportation Safety Department requests for paperwork corrections and clarifications.

o Notifying Apex Dispatch of work assignment changes or delays.

o Observing all assigned work-schedule start times

Job Specifications:

• Must possess a valid Colorado CDL Class A driving license.

• Must be 25 years of age

• Must have no convictions for alcohol-related offenses in the past ten years (any vehicle).

• Must have no careless or reckless driving convictions (any vehicle).

• Must have the ability to read, write, and perform basic arithmetic calculations necessary to properly handle receipts, read maps, road signs, maintain logs, and comprehend FMCSA Rules and Regulations.

• Must comply with all size-weight regulations promulgated by the State of Colorado for regulation of commercial truck traffic on state highways and thoroughfares. Driver acknowledges and agrees that fines and penalties resulting from citations are the sole responsibility of driver.

• Must have working knowledge of vehicle safety and control systems.

• Must have knowledge of FMCSA Rules and Regulations regarding safe driving, hours-of-service, inspection and maintenance, and load securement.

• Must display sufficient driving skills to safely and efficiently operate Class-8 tractor trailer combinations on public highways and thoroughfares.

• Must meet medical standards for drivers of commercial motor vehicles.

• Must pass a pre-employment drug screen.

• Must meet the following minimal physical requirements:

o Must be able to remain alert while driving for periods of time up to eleven (11) hours.

o Must be able to shift 18-speed transmission with use of clutch.

o Must be able to perform ordinary physical movements such as, crouching, bending, climbing, and lifting.

o Must be able to enter and exit vehicle's cab using three-point technique multiple times.

o Must be able to perform occasional heaving lifting: regular and overhead lifting of weights up to 80 pounds.

o Must be able to place body in ground-positions to perform required functions such as; checking tire pressure, inspecting brakes and vehicle undercarriage.

Working Conditions:

• Drivers will be required to work in many different weather conditions in various geographical locations in the Denver-Metro area and throughout the state of Colorado.

• Drivers will be subject to varying and irregular work schedules as required by customer requests and FMCSA Rules and Regulations.

• Drivers may be required to take off-duty time away from their ordinary places of residence. All personnel under dispatch are charged with being personally prepared for required off-duty layovers.

• Drivers must work outdoors and indoors as job requires. Work may take place at times and in places of inclement weather. All personnel under dispatch are charged with being personally prepared for such occasions.

• Drivers may be subject to tight delivery schedules, delays en route, and other stresses related to traffic, and weather conditions.

• Drivers must be organized and capable of resolving simple and complex problems relating to all aspects of work described herein.

Employee Representations and Agreements:

• Driver represents and agrees that at the end of his term of employment, he shall deliver to Apex Administration all property of apex Transportation Inc., including, but not limited to:

o All Dispatch paperwork

o Fuel Cards

o Vehicle and property access keys

o All other work-related documents and items not specifically the personal property

• Driver further agrees that should driver fail to return such property on demand, apex Transportation Inc. shall be entitled to reimbursement for all recovery costs including reasonable attorney's fees.

Apply
Create a Driver s Account to Apply

Apex Transportation, Inc. Local Truck Driving Jobs in Henderson, CO