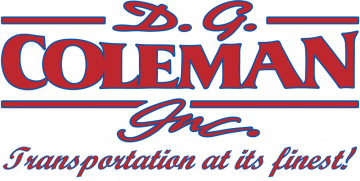 Commerce City, COLORADO, Pay: $18.00 hr. to start, $18.25 @ 6 mos. and $18.50 @1 yr. Overtime paid at time and a half.
This position is hauling bulk cement in pneumatic trailers. All day trips. You can go as far North as Laramie, WY as far South as Pueblo, CO. We also service Ogallala and Sutherland, NE and the Denver Metro area. We train on the pneumatics. Our drivers work steady 50 - 60 hours during the busy season, spring, summer and fall. During the winters when construction slows we do not lay off and we keep downtime to minimum. You must be willing to do shorter regional runs in winter. You could be going to Salt Lake City, Utah or Albuquerque, New Mexico.
Required -
Minimum of 1 year TT experience
Good MVR
Must be at least 23 years of age
Safe and professional truck driving is not just a skill... It's an attitude! ;o)
We value and respect each employee on a personal level.
Join our team!
Transportation at it's finest.
D.G. Coleman, Inc. a proven leader in the trucking industry and well established family owned and operated Colorado company since 1972. We are comprised of intelligent, skilled and experienced people that utilize the most innovative technology available to get the job done. We hire the most qualified, self-starting and enthusiastic employees to work within our organization.
Call (303) 321-5708 press 4
Apply now at www.dgcoleman.com
☎ ☎ ☎
Great Benefits!
Health, Dental, Vision, Hearing, Rx & Life Insurance at 60 days, Direct Deposit, Paid Vacations, Paid Weekly, Automatic wage increases and 401(k). Referral bonus of $700 when you bring a friend who meets the qualification requirements and is hired. You will have newer assigned equipment and we do not haul any hazardous materials. We run electronic logs so we maintain compliance at all times.
Create a Drivers Account to Apply
Question
Answer
Company Name
D.G. Coleman, Inc.
Class of CDL
Class A
Job Position/Title
Be Home Nightly - Hiring Class A Drivers for Local Positon
Type of Route
Local
# of seats to fill
2
Person to Contact about this Job Profile
Estrella
How to Apply
Create a Driver s Account to Apply
City

Commerce City

State

COLORADO

Minimum Years of Experience Required
1-2 yrs
Does the driver need to have a Hazardous Materials Endorsement?
No
Does the driver need to have a Tank Endorsement?
Yes
Does the driver need to have a Doubles/Triples Endorsement?
No
Does the driver need to have a Passenger Endorsement?
No
Felonies?
5-10 yrs
Dui?
5-10 yrs
Traffic tickets allowed in the last 3 years?
2
Any at fault accidents allowed in the last 3 years?
No
Do you require a company provided DOT physical?
Yes
What does the job pay?
$18.00 hr. to start, $18.25 @ 6 mos. and $18.50 @1 yr. Overtime paid at time and a half.
Please describe any benefits you offer (Very important so we can help you find the right candidate)
Great Benefits!
Health, Dental, Vision, Hearing, Rx & Life Insurance at 60 days, Direct Deposit, Paid Vacations, Paid Weekly, Automatic wage increases and 401(k). Referral bonus of $700 when you bring a friend who meets the qualification requirements and is hired. You will have newer assigned equipment and we do not haul any hazardous materials. We run electronic logs so we maintain compliance at all times.
Please describe the job in detail
This position is hauling bulk cement in pneumatic trailers. All day trips. You can go as far North as Laramie, WY as far South as Pueblo, CO. We also service Ogallala and Sutherland, NE and the Denver Metro area. We train on the pneumatics. Our drivers work steady 50 - 60 hours during the busy season, spring, summer and fall. During the winters when construction slows we do not lay off and we keep downtime to minimum. You must be willing to do shorter regional runs in winter. You could be going to Salt Lake City, Utah or Albuquerque, New Mexico.

Required -
Minimum of 1 year TT experience
Good MVR
Must be at least 23 years of age

Safe and professional truck driving is not just a skill... It's an attitude! ;o)

We value and respect each employee on a personal level.
Join our team!
Transportation at it's finest.

D.G. Coleman, Inc. a proven leader in the trucking industry and well established family owned and operated Colorado company since 1972. We are comprised of intelligent, skilled and experienced people that utilize the most innovative technology available to get the job done. We hire the most qualified, self-starting and enthusiastic employees to work within our organization.

Call (303) 321-5708 press 4
Apply now at www.dgcoleman.com

☎ ☎ ☎

Apply
Create a Driver s Account to Apply
Commerce City, COLORADO-D.G. Coleman, Inc.-Be Home Nightly - Hiring Class A Drivers for Local Positon-Job for CDL Class A Drivers