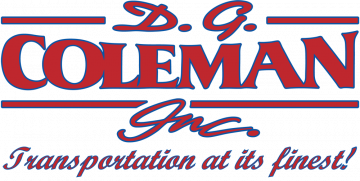 Commerce City, COLORADO, Pay: up to 44 cpm!!!
OTR DRIVER WANTED!!! Hit the open road and explore the 11 western states. Enjoy the freedom that comes with a great truck driving career. The road to success starts here! Make up to $60,000 annually with the safe driving bonus!!! Potential for 2700+ miles per week!!! Enjoy Great Home Time! Out 5 Days, Home 2 or Out 10 Days, Home 3 – your choice!! Newer Assigned Equipment, Automatic Transmissions, Premium Interiors, 500 HP Trucks!!! No Hazardous Material, E Logs, No Touch Freight, Layover, Detention Pay & additional Stop Off and Pick Up pay. Minimum of 6 months TT experience or 25k miles verifiable required, Good MVR, Must be at least 23 years of age. Apply at www.dgcoleman.com & call (303)321-5708 opt.4
Safe and professional truck driving is not just a skill... It's an attitude! ;o)
Join our team! Transportation at it's finest. We value and respect each employee on a personal level.
Bring a friend qualified friend and we'll pay you a $700 referral Bonus.
Apply at www.dgcoleman.com & call (303)321-5708 opt.4
Health, Dental, Vision, Hearing, Rx, Life Insurance at 60 days, 401K, Direct Deposit, Paid Vacations, Paid Weekly, Automatic wage increases
Create a Drivers Account to Apply
Question
Answer
Company Name
D.G. Coleman, Inc.
Class of CDL
Class A
Job Position/Title
OTR DRIVERS - up to 44 CPM - GREAT HOME TIME - Only 6 mos. exp. required.
Type of Route
Over the Road
# of seats to fill
2
Person to Contact about this Job Profile
Estrella
How to Apply
Create a Driver s Account to Apply
City

Commerce City

State

COLORADO

Minimum Years of Experience Required
6-12 months
Does the driver need to have a Hazardous Materials Endorsement?
No
Does the driver need to have a Tank Endorsement?
No
Does the driver need to have a Doubles/Triples Endorsement?
No
Does the driver need to have a Passenger Endorsement?
No
Felonies?
5-10 yrs
Dui?
5-10 yrs
Traffic tickets allowed in the last 3 years?
2
Any at fault accidents allowed in the last 3 years?
No
Do you require a company provided DOT physical?
Yes
What does the job pay?
up to 44 cpm!!!
Please describe any benefits you offer (Very important so we can help you find the right candidate)
Health, Dental, Vision, Hearing, Rx, Life Insurance at 60 days, 401K, Direct Deposit, Paid Vacations, Paid Weekly, Automatic wage increases
Please describe the job in detail
OTR DRIVER WANTED!!! Hit the open road and explore the 11 western states. Enjoy the freedom that comes with a great truck driving career. The road to success starts here! Make up to $60,000 annually with the safe driving bonus!!! Potential for 2700+ miles per week!!! Enjoy Great Home Time! Out 5 Days, Home 2 or Out 10 Days, Home 3 – your choice!! Newer Assigned Equipment, Automatic Transmissions, Premium Interiors, 500 HP Trucks!!! No Hazardous Material, E Logs, No Touch Freight, Layover, Detention Pay & additional Stop Off and Pick Up pay. Minimum of 6 months TT experience or 25k miles verifiable required, Good MVR, Must be at least 23 years of age. Apply at www.dgcoleman.com & call (303)321-5708 opt.4

Safe and professional truck driving is not just a skill... It's an attitude! ;o)

Join our team! Transportation at it's finest. We value and respect each employee on a personal level.

Bring a friend qualified friend and we'll pay you a $700 referral Bonus.

Apply at www.dgcoleman.com & call (303)321-5708 opt.4

Apply
Create a Driver s Account to Apply
Commerce City, COLORADO-D.G. Coleman, Inc.-OTR DRIVERS - up to 44 CPM - GREAT HOME TIME - Only 6 mos. exp. required.-Job for CDL Class A Drivers