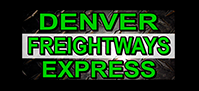 Class A Local Delivery Driver Job
First, we are family owned and operated. We started this company four years ago but my family has been in this industry for over 50 years. We started with 2 drivers and 1 customer. We now have 5 drivers and over 20 customers. We have grown over 10% each year that we have operated. Next year we will be a debt free company.
I give you that little bit of history because what I'm sure you are most concerned about is pay. We start our drivers at $17.00 per hour. That may seem low, and comparatively speaking it is low if you went solely off an hourly wage. We are more of a profit sharing company as it is imperative to have strong team players who are customer focused and truly care about the company growing. The way we work is if we meet all of our expenses and exceed those expenses by $1,000.00, you have no accidents or incidents you would get a bonus. This is a quarterly bonus, but once you get going it pays out monthly. It is 5% of your salary. Everyone made bonus every quarter last year. Just to give you an idea one of our employees who is at $17 per hour worked about 53 hours average last year and made $54,000.00. We also gave out cash bonuses at the end of the year because the company did well. We all work together to grow this company and if you help and decide to grow alongside us you will grow financially as well. Hopefully you get the theme that we have a strong team and we all work together on a common goal.
We do offer health insurance but at this time we do not pay a portion. As we grow we are hoping to change that.
All holidays are paid.
We have 401k and match 2% after one year of employment.
We are flexible when you need time off. We are a family company, so we want our employees to have a healthy family life as well.
We are essentially an LTL carrier and handle a wide variety of products, except hazmat. We will break down freight but not a ton. Most of the stuff we haul is pallet on pallet off. We provide power pallet jacks for all of our trucks. Typical start time is 5:30am Typical end time is 4:30pm.
We are looking for someone with a great attitude that is a team player and not afraid to work. We realize the more we all exceed the better we will all do. Safety is a huge culture and we would expect you to have that as a first priority every day.
Hopefully this addresses a lot of questions you may have.
If this is something you are interested in please do not hesitate to apply.
Pay: Average $52-$56,000.00 per year
Paid Holiday's, 401K, Match 2% Health Insurance
How to apply for this Driving Job
Fill out a Gary's Job Board application. That same application can be used to apply to as many jobs as you'd like. Create a Driver's Account.
Person to Contact about this CDL Job: James
Denver Freightways Express, Inc. Phone Number: 303-981-5695
Tell em' Gary's Job Board sent you.
This truck driving job may have an alternate application method. Look in the description area below for more information. All companies will accept a Gary's Job Board application in addition to their other methods.
Gary 's Job Board. Fill out ONE application to send to ALL companies
Full CDL Job Information
Question
Answer
Company Name
Denver Freightways Express, Inc.
Class of CDL
Class A
Job Position/Title
Local Delivery Driver
Type of Route
Local
# of seats to fill
2
Person to Contact about this Job Profile
James
How to Apply
Create a Driver s Account to Apply
City
Commerce City
State
COLORADO
Minimum Years of Experience Required
6-12 months
Does the driver need to have a Hazardous Materials Endorsement?
No
Does the driver need to have a Tank Endorsement?
No
Does the driver need to have a Doubles/Triples Endorsement?
No
Does the driver need to have a Passenger Endorsement?
No
Felonies?
5-10 yrs
Dui?
5-10 yrs
Traffic tickets allowed in the last 3 years?
1
Any at fault accidents allowed in the last 3 years?
No
Do you require a company provided DOT physical?
Yes
What does the job pay?
Average $52-$56,000.00 per year
Please describe any benefits you offer (Very important so we can help you find the right candidate)
Paid Holiday's, 401K, Match 2% Health Insurance
Please describe the job in detail
First, we are family owned and operated. We started this company four years ago but my family has been in this industry for over 50 years. We started with 2 drivers and 1 customer. We now have 5 drivers and over 20 customers. We have grown over 10% each year that we have operated. Next year we will be a debt free company.

I give you that little bit of history because what I'm sure you are most concerned about is pay. We start our drivers at $17.00 per hour. That may seem low, and comparatively speaking it is low if you went solely off an hourly wage. We are more of a profit sharing company as it is imperative to have strong team players who are customer focused and truly care about the company growing. The way we work is if we meet all of our expenses and exceed those expenses by $1,000.00, you have no accidents or incidents you would get a bonus. This is a quarterly bonus, but once you get going it pays out monthly. It is 5% of your salary. Everyone made bonus every quarter last year. Just to give you an idea one of our employees who is at $17 per hour worked about 53 hours average last year and made $54,000.00. We also gave out cash bonuses at the end of the year because the company did well. We all work together to grow this company and if you help and decide to grow alongside us you will grow financially as well. Hopefully you get the theme that we have a strong team and we all work together on a common goal.

We do offer health insurance but at this time we do not pay a portion. As we grow we are hoping to change that.

All holidays are paid.

We have 401k and match 2% after one year of employment.

We are flexible when you need time off. We are a family company, so we want our employees to have a healthy family life as well.

We are essentially an LTL carrier and handle a wide variety of products, except hazmat. We will break down freight but not a ton. Most of the stuff we haul is pallet on pallet off. We provide power pallet jacks for all of our trucks. Typical start time is 5:30am Typical end time is 4:30pm.

We are looking for someone with a great attitude that is a team player and not afraid to work. We realize the more we all exceed the better we will all do. Safety is a huge culture and we would expect you to have that as a first priority every day.

Hopefully this addresses a lot of questions you may have.

If this is something you are interested in please do not hesitate to apply.

Apply
Create a Driver s Account to Apply

Denver Freightways Express, Inc. Truck Driving Jobs in Commerce City, CO