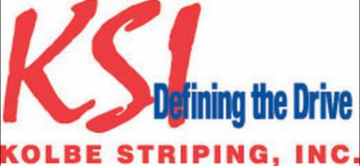 CDL Class A or B driving Jobs
Purpose of position: Drives trucks to paint stripes on road in accordance with federal and state Department of Transportation regulations. Performs light mechanical repairs on vehicles. Performs unskilled construction activities, usually working in utility capacity, by transferring from one task to another where demands require worker with varied experience and ability to work without close supervision by performing the following duties.
Essential duties/responsibilities:
Ensures that their actions meet all safety requirements, and watches areas around them to ensure all aspects of the project are safe for everyone.
Verifies details of striping projects with Project Manager, including site locations, type of materials and nature of project.
Loads and unloads materials and equipment.
Hauls materials to job sites.
Operates equipment and machinery*
Shovels and sweeps asphalt and conctrete.
Drives truck to destination.
Lays striping materials on roadway using various techniques
Operate large complex CDL vehicles including Removal, Epoxy, as well Paint trucks, and other CDL trucks carrying hazardous materials. Operates non-CDL trucks, including Attenuators and smaller paint truck units*
Operates forklifts*
Maintains truck log according to state and federal regulations.
Inspects truck equipment and supplies such as tires, lights, brakes, gas, oil, and water "Pre-Trip"
Performs emergency roadside repairs such as changing tires, installing light bulbs, fuses, tire chains, and spark plugs.
Reads blueprints and performs layouts*
Performs flagging tasks*
Assists with layouts
Uses mathematical skills to ensure proper placement
Drives vehicles and equipment as necessary
Provides Customer Service to our Customers, including the traveling public; ensuring follow through on problems encountered, questions asked, or issues identified.
Completes audits of quality control, safety checks for drivers (ensuring that the striping is accurate and does not cause a safety concern), as well as inventory and billing audits of reported quantities.
Ensures at the end of the shift all required tasks listed on the daily checklist are complete to KSI standards.*
Knowledge, skills and abilities
Basic reading, writing and mathematical skills
Knowledge of the safe and efficient use of hand and power tools including hand shovel, pck, construction bar, rake, broom and other handheld power tools.
Knowledge of safety rules and ability to abide by them
Ability to safely operate Class A vehicles and below
Manual and finger dexterity
Eye-hand coordination
Knowledge of and exposure to hazardous materials
Training/Education:
High school diploma or equivalent
Valid Colorado Flagger Certification
Valid Class A or B Commercial Drivers License
Experience:
Four years driving experience driving Striping trucks following Class A or B certification. Certain tasks (as indicated with an *) requires training and/or endorsements from a governing authority. Those tasks will be required as the training and/or endorsements are obtained.
Two years' experience operating Striping Trucks
Working Environment:
Outdoor environment that includes exposure to rain, sleet, snow, extreme cold, dust, mud, heat, direct sunlight, dark, and noise
May be exposed to moving vehicles, moving parts, exhaust and fumes
Physical Activities:
Prolonged sitting, standing and bending, reaching, crawling, climbing, grasping, kneeling, squatting, and twisting.
Often includes lifting, carrying, pushing and pulling items up to 75 pounds.
Sometimes requires working at elevated heights.
Note: This job description is not intended to be an exhaustive list of all duties, responsibilities, or qualifications associated with this job
Pay: $18 + per hour, depends on experience, type of license and endorsements
Medical, Dental, vision, life insurance, chiropractic care and gym membership offered, all work shifts available
How to apply for this Driving Job
Fill out a Gary's Job Board application. That same application can be used to apply to as many jobs as you'd like. Create a Driver's Account.
Person to Contact about this CDL Job: Kristin Gillen
Kolbe Striping, Inc Phone Number: 3036889516
Tell em' Gary's Job Board sent you.
This truck driving job may have an alternate application method. Look in the description area below for more information. All companies will accept a Gary's Job Board application in addition to their other methods.
Gary 's Job Board. Fill out ONE application to send to ALL companies
Full CDL Job Information
Question
Answer
Company Name
Kolbe Striping, Inc
Class of CDL
Class A
Job Position/Title
CDL - Class A or B drivers
Type of Route
All of the Above
# of seats to fill
10
Person to Contact about this Job Profile
Kristin Gillen
How to Apply
Create a Driver s Account to Apply
City

Castle Rock

State

COLORADO

Minimum Years of Experience Required
1-2 yrs
Does the driver need to have a Hazardous Materials Endorsement?
No
Does the driver need to have a Tank Endorsement?
No
Does the driver need to have a Doubles/Triples Endorsement?
No
Does the driver need to have a Passenger Endorsement?
No
Felonies?
< 3 yrs
Dui?
3-5 yrs
Traffic tickets allowed in the last 3 years?
4
Any at fault accidents allowed in the last 3 years?
Yes
Do you require a company provided DOT physical?
Yes
What does the job pay?
$18 + per hour, depends on experience, type of license and endorsements
Please describe any benefits you offer (Very important so we can help you find the right candidate)
Medical, Dental, vision, life insurance, chiropractic care and gym membership offered, all work shifts available
Please describe the job in detail
Purpose of position: Drives trucks to paint stripes on road in accordance with federal and state Department of Transportation regulations. Performs light mechanical repairs on vehicles. Performs unskilled construction activities, usually working in utility capacity, by transferring from one task to another where demands require worker with varied experience and ability to work without close supervision by performing the following duties.

Essential duties/responsibilities:

Ensures that their actions meet all safety requirements, and watches areas around them to ensure all aspects of the project are safe for everyone.
Verifies details of striping projects with Project Manager, including site locations, type of materials and nature of project.
Loads and unloads materials and equipment.
Hauls materials to job sites.
Operates equipment and machinery*
Shovels and sweeps asphalt and conctrete.
Drives truck to destination.
Lays striping materials on roadway using various techniques
Operate large complex CDL vehicles including Removal, Epoxy, as well Paint trucks, and other CDL trucks carrying hazardous materials. Operates non-CDL trucks, including Attenuators and smaller paint truck units*
Operates forklifts*
Maintains truck log according to state and federal regulations.
Inspects truck equipment and supplies such as tires, lights, brakes, gas, oil, and water "Pre-Trip"
Performs emergency roadside repairs such as changing tires, installing light bulbs, fuses, tire chains, and spark plugs.
Reads blueprints and performs layouts*
Performs flagging tasks*
Assists with layouts
Uses mathematical skills to ensure proper placement
Drives vehicles and equipment as necessary
Provides Customer Service to our Customers, including the traveling public; ensuring follow through on problems encountered, questions asked, or issues identified.
Completes audits of quality control, safety checks for drivers (ensuring that the striping is accurate and does not cause a safety concern), as well as inventory and billing audits of reported quantities.
Ensures at the end of the shift all required tasks listed on the daily checklist are complete to KSI standards.*

Knowledge, skills and abilities

Basic reading, writing and mathematical skills
Knowledge of the safe and efficient use of hand and power tools including hand shovel, pck, construction bar, rake, broom and other handheld power tools.
Knowledge of safety rules and ability to abide by them
Ability to safely operate Class A vehicles and below
Manual and finger dexterity
Eye-hand coordination
Knowledge of and exposure to hazardous materials

Training/Education:

High school diploma or equivalent
Valid Colorado Flagger Certification
Valid Class A or B Commercial Drivers License

Experience:

Four years driving experience driving Striping trucks following Class A or B certification. Certain tasks (as indicated with an *) requires training and/or endorsements from a governing authority. Those tasks will be required as the training and/or endorsements are obtained.
Two years' experience operating Striping Trucks
Working Environment:

Outdoor environment that includes exposure to rain, sleet, snow, extreme cold, dust, mud, heat, direct sunlight, dark, and noise
May be exposed to moving vehicles, moving parts, exhaust and fumes
Physical Activities:

Prolonged sitting, standing and bending, reaching, crawling, climbing, grasping, kneeling, squatting, and twisting.
Often includes lifting, carrying, pushing and pulling items up to 75 pounds.
Sometimes requires working at elevated heights.

Note: This job description is not intended to be an exhaustive list of all duties, responsibilities, or qualifications associated with this job

Apply
Create a Driver s Account to Apply
Kolbe Striping jobs in Castle Rock, COLORADO now hiring CDL Drivers