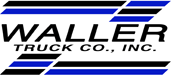 Class A TEXAS-Pet Policy-Yes-OTR Truck Driver Home Weekly Job
Waller Truck Co., Inc. is a leading truckload carrier of general commodities providing both regional and long-haul freight shipping services. Waller treats its drivers like family! Our driving jobs offer high starting pay, bonus pay, pay increases, home time and other great benefits. We are always hiring company truck drivers, owner operators and lease purchase drivers.
We are just north of Kansas City, Missouri, and maintain 200 tractors. For our drivers, we provide Kenworth T680 trucks that are 2014 and newer, and we utilize over 650 dry van trailers.
OTR Driver
Job Pay:
0.41 per Per Mile
Apply Directly for Waller
REQUIREMENTS: 18 months driving experience w/CDL certificate or 24 months without. An acceptable driving record without any drug or alcohol related incidents in the last 5 years.
Description:
Our freight lanes aim to get you home most weekends!
Pay: Earn $53,000+ per year (OTR Truck Driver Home Weekly)... 0.41 CPM to start!
Pay increase at 6 months and again at 2 years
Company drivers average 2500 miles per week (No forced dispatch!)
Typical service area: Midwest lanes with high traffic on Interstates 70, 35, 435, 55 and many others!
Home-time: We aim at getting our drivers home weekly. There will be times that you may be out 7-10 days up to 12 days out before we get you home for a 34 hour restart.
Job Details and Equipment:
Loads: Unpredictable Freight/ Nothing Dedicated
ELOGS: 100% QualComm
PC Miles: We pay practical miles load and empty the same
Stop- Off: $17 after the first pick up and drop off
Layover: Begins 12 hours after legal break and paid every 12 hours. $25 every 12 hours
Trucks: 100% Kenworth T680 Fleet, 2014 and newer!!
Pet Policy: Yes!
Weekly Pay: Deposited in your bank account Friday Mornings!
Other Benefits:
Full Coverage Health Insurance: United Medical (UMR) with Metlife Dental and Spectera Vision all for as low as $45/ week
Safety focused, the well-being of our drivers take precedence.
Stable company nearly 60+ years in business
Our drivers come first. When you give us a call we'll do our best to tell you the good and the bad right off the bat. Our jobs may not be a perfect fit for everyone, but we'd love to see if we're a match. Speak with one of our recruiters today. When you drive with us, you drive with integrity.
Call Recruiting today at 800-635-9828 for full explanation of pay and benefits or complete an application online by clicking here.
Pay: 0.41 per Per Mile
WE OFFER:
*94% no touch freight (Lumper fee paid)
*Detention/layover AND stop off pay
*Free Rider policy from DAY 1
*Direct deposit EVERY FRIDAY
*Home most weekends (3 out of 4)
** AND MUCH MORE **
How to apply for this Driving Job
Fill out a Gary's Job Board application. That same application can be used to apply to as many jobs as you'd like. Create a Driver's Account.
Person to Contact about this CDL Job: Recruiting
Waller Truck CO Phone Number: 800-635-9828
Tell em' Gary's Job Board sent you.
This truck driving job may have an alternate application method. Look in the description area below for more information. All companies will accept a Gary's Job Board application in addition to their other methods.
Gary 's Job Board. Fill out ONE application to send to ALL companies
Full CDL Job Information
Question
Answer
Company Name
Waller Truck CO
Class of CDL
Class A
Job Position/Title
TEXAS-Pet Policy-Yes-OTR Truck Driver Home Weekly
Type of Route
Over the Road
# of seats to fill
7
Person to Contact about this Job Profile
Recruiting
How to Apply
Create a Driver s Account to Apply
City

Every City in

State

TEXAS

Minimum Years of Experience Required
1-2 yrs
Does the driver need to have a Hazardous Materials Endorsement?
No
Does the driver need to have a Tank Endorsement?
No
Does the driver need to have a Doubles/Triples Endorsement?
No
Does the driver need to have a Passenger Endorsement?
No
Felonies?
5-10 yrs
Dui?
5-10 yrs
Traffic tickets allowed in the last 3 years?
3
Any at fault accidents allowed in the last 3 years?
Yes
Do you require a company provided DOT physical?
No
What does the job pay?
0.41 per Per Mile
Please describe any benefits you offer (Very important so we can help you find the right candidate)
WE OFFER:
*94% no touch freight (Lumper fee paid)
*Detention/layover AND stop off pay
*Free Rider policy from DAY 1
*Direct deposit EVERY FRIDAY
*Home most weekends (3 out of 4)
** AND MUCH MORE **
Please describe the job in detail
Waller Truck Co., Inc. is a leading truckload carrier of general commodities providing both regional and long-haul freight shipping services. Waller treats its drivers like family! Our driving jobs offer high starting pay, bonus pay, pay increases, home time and other great benefits. We are always hiring company truck drivers, owner operators and lease purchase drivers.

We are just north of Kansas City, Missouri, and maintain 200 tractors. For our drivers, we provide Kenworth T680 trucks that are 2014 and newer, and we utilize over 650 dry van trailers.

OTR Driver
Job Pay:
0.41 per Per Mile

Apply Directly for Waller

REQUIREMENTS: 18 months driving experience w/CDL certificate or 24 months without. An acceptable driving record without any drug or alcohol related incidents in the last 5 years.
Description:
Our freight lanes aim to get you home most weekends!

Pay: Earn $53,000+ per year (OTR Truck Driver Home Weekly)... 0.41 CPM to start!
Pay increase at 6 months and again at 2 years
Company drivers average 2500 miles per week (No forced dispatch!)

Typical service area: Midwest lanes with high traffic on Interstates 70, 35, 435, 55 and many others!
Home-time: We aim at getting our drivers home weekly. There will be times that you may be out 7-10 days up to 12 days out before we get you home for a 34 hour restart.

Job Details and Equipment:
Loads: Unpredictable Freight/ Nothing Dedicated
ELOGS: 100% QualComm
PC Miles: We pay practical miles load and empty the same
Stop- Off: $17 after the first pick up and drop off
Layover: Begins 12 hours after legal break and paid every 12 hours. $25 every 12 hours
Trucks: 100% Kenworth T680 Fleet, 2014 and newer!!
Pet Policy: Yes!
Weekly Pay: Deposited in your bank account Friday Mornings!

Other Benefits:
Full Coverage Health Insurance: United Medical (UMR) with Metlife Dental and Spectera Vision all for as low as $45/ week
Safety focused, the well-being of our drivers take precedence.
Stable company nearly 60+ years in business

Our drivers come first. When you give us a call we'll do our best to tell you the good and the bad right off the bat. Our jobs may not be a perfect fit for everyone, but we'd love to see if we're a match. Speak with one of our recruiters today. When you drive with us, you drive with integrity.

Call Recruiting today at 800-635-9828 for full explanation of pay and benefits or complete an application online by clicking here.

Apply
Create a Driver s Account to Apply
Waller Truck CO jobs in Every City in, TEXAS now hiring Over the Road CDL Drivers