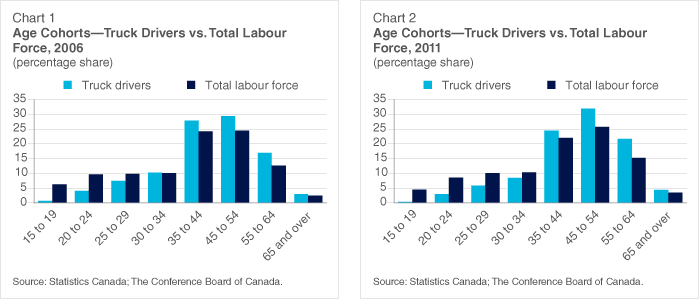 It is no secret that the proportion of truckers in the 20-29 age cohort is falling. In fact it was reported that in 2006, 11.6% of truck drivers were in that age group. By 2011, this had declined to just 8.8% of the driver population. On the other hand, drivers aged 55 and older increase from 20% to 26%.
The graph below with data from Statistics Canada, shows this trend quite clearly:
According to Phil Byrd of the South Carolina-based Bulldog Hiway Express and past chairman of the American Trucking Associations, "If we don't infuse our fleet with young, talented drivers, we'll retire ourselves out of the business." Today's pool of drivers is static, if not shrinking, in the face of rapidly rising demand for truck capacity.
At the same time an "impending wave of regulatory drag scheduled for 2016 and beyond" may lead to productivity losses due to the implementation of mandatory electronic logging devices and other new driver-related rules says Noel Perry of the transportation analyst firm FTR.
So, the question is, where does the industry go?
1. Younger Drivers: One of the main reasons for the decline in young drivers is suspected to be because of the desirability factor; trucking is not seen as a desirable profession for todays youth. Some states, like Minnesota, have lower intrastate age minimums; thus, truck-training companies can recruit there. Training young drivers can be a big investment and should be considered on a case by case basis. It is likely a necessary step to revitalizing the industry, however.
2. Women Drivers: Women make up an estimated 5-7% of the industry. Carriers are increasingly highlighting the successes and experiences of their women drivers. According to Ellen Voie, president of Women in Trucking, companies that are doing a good job of recruiting and retaining women "have a culture that values and appreciates women."
3. Returning Military: Another option is to target those who are returning home after serving for the armed forces. Many already are experienced in vehicles or driving, making this an easy choice. The American Trucking Associations and the Truckload Carriers Association have both committed on behalf of their members to hiring thousands of veterans in the coming years.
If you have another idea, let us know below!
Trucking Article Category: